Hollis Alynn Procuniar 1949

A Thumbnail Biography by David C. Procuniar

All Rights Reserved Last updated: 31 Aug 2001

Main Source:

George A. Procuniar Irvine, California (deceased)

Holly Procuniar Reynolds

Other Sources:

David C Procuniar 3598 Harry Truman Drive, Beavercreek, Ohio 45432

Note:
  Anything not copyrighted in this publication can be reprinted with permission from the author
David C. Procuniar.
(It is appreciated if a credit line be given) Certain advertisers and writers may retain copyright on material which will be clearly marked as such. You must contact them about use of their material. Information in this publication was/is obtained from correspondence, newsletters and miscellaneous sources, which, in many cases cannot be verified 100%. In cases where you need to write the author for material, please send along a SASE (Self Addressed Stamped Envelope).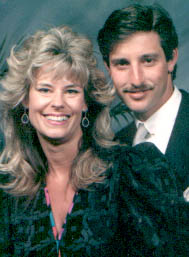 Holly Procuniar Reynolds & hubby Rob W. Reynolds


Hollis (Holly) Alynn Procuniar; daughter of George Allen Procuniar (1921-2002) & Elsie Marianne Aronson (1925-1996); Hollis was born on 12 Dec 1949 in Chicago, Illinois; married 1st C. Chadwick Wright 1973; married 2nd Robert Warren Reynolds on 07 Jan 1987 in Las Vegas, Nevada, Robert was born on 01 Jul 1958 in Pueblo, Colorado No Children by either marriage.